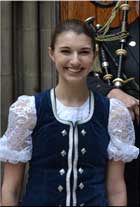 Brittany Maniet started Scottish dancing at age six. She has performed at Tartan Day celebrations, Robert Burns Dinners, and many other Scottish events in the Western Pennsylvania area. She has competed at the premier level, placing in many competitions, such as Ligonier, Edinboro, Anne Arundal, McHenry, and was a finalist in the Northeast US Regional Championships.
Back to Biographies page

This project is partially supported by a grant from Pennsylvania Performing Arts on Tour, a program developed and funded by the Vira I. Heinz Endowment; the William Penn Foundation; the Pennsylvania Council on the Arts, a state agency; and the Pew Charitable Trusts; and administered by the Mid Atlantic Arts Foundation.
Funding for concert performances and workshops by Road to the Isles is available to non-profit presenters throughout the Mid-Atlantic region. For more information contact PennPat at (www.pennpat.org) (215)496-9424, or Music Tree at () (412) 323-2707.