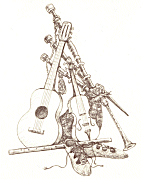 Road to the Isles Performances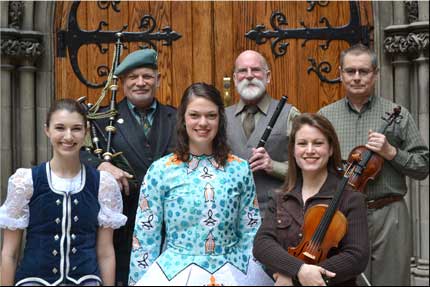 2013
Sun., March 10 - 3 p.m. Allegheny Valley Concert Association, at Valley High School Auditorium, 701 Stevenson Blvd., New Kensington PA 15068. Tickets 724 339-3825.
Thu., March 14 - Noon, PennState at Erie, 4701 College Drive, Erie, PA 16563. Reed Union Building on campus. 814 898-7101. Free.
Fri., March 15 - School concerts, Elkins, WV
Sat., March 16 - 4 p.m. family concert, Randolph Community Arts Center, Elkins, WV. Tickets: 304 637-2355.
Sat., March 16 - 7:30 p.m. evening concert, Randolph Community Arts Center, Elkins, WV. Tickets: 304 637-2355.
Sun., March 17 - 1 p.m. concert, First Presbyterian Church of Pittsburgh, 320 Sixth Avenue, Pittsburgh, PA 15222. Tickets: 412 471-3436.
Mon., March 25 - 7 p.m. Penn State McKeesport, Ostermeyer Room, 4000 University Drive, McKeesport, PA 15132
Thu., July 4 - Noon-1 p.m. Westmoreland County Arts and Heritage Festival, 252 Twin Lakes Road, Latrobe, PA 15650. (724) 834-7474, , www.ArtsAndHeritage.com.
2014
Sat., March 15 - 7:30 p.m. Montgomery County Community College, 340 DeKalb Pike, Blue Bell, PA 19422. (215) 641-6439.
Sat., April 5 - 7:30 p.m. Ironton Council for the Arts, Ironton, Ohio. (742) 532-0876, , www.irontonarts.org.
Sat., May 3 - 3:00 p.m. Workshop; 7:30 p.m. Concert. Sponsored by the Pennsylvania Consort. Venue: Bedford United Methodist Church, 132 E. John Street, Bedford, PA. (814) 733-2301. , www.artsinbedfordpa.org.
View a sample concert program, or contact us for more information! "This artist was selected for inclusion in the Pennsylvania Performing Arts on Tour Roster. Funding may be available to support performance engagements with presenters in DC, DE, MD, NJ, NY, OH, PA, VA, WV and the U.S. Virgin Islands."

This project is partially supported by a grant from Pennsylvania Performing Arts on Tour, a program developed and funded by the Vira I. Heinz Endowment; the William Penn Foundation; the Pennsylvania Council on the Arts, a state agency; and the Pew Charitable Trusts; and administered by the Mid Atlantic Arts Foundation.
Funding for concert performances and workshops by Road to the Isles is available to non-profit presenters throughout the Mid-Atlantic region. For more information contact PennPat at (www.pennpat.org) (215)496-9424, or Music Tree at () (412) 323-2707.