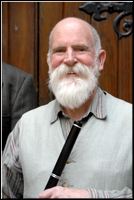 Richard Hughes first started playing traditional Irish music almost 50 years ago on the flute and tin whistle for dances in Pittsburgh, and he has been playing music ever since. When a young man he regularly performed at Carnegie Mellon Universityís ceilidhs (kay-lees), and for festivals and concerts throughout the Eastern US and Canada. Now a retired railroad man, Richardís singing has been called a celebration of traditional working life. He has developed and cultivated for more than half a century a mastery of traditional flute and tin whistle music, as well as songs from Scotland, Ireland, America, and Australia.
In 1991 while on a trip to Ireland his singing was recorded by the Irish Traditional Music Archives in Dublin for posterity's sake.
The reality of traditional folk songs enables you as the performer and you as the listener to leave the time you're in and experience in concert that period of history. – Richard Hughes
His performances as a featured performer include:
TV: PBS, WQED, KDKA, WTAE
Radio: KDKA, WQED, WDUQ, WYEP
International Poetry Forum
Carnegie Ceilidh Society
Philadelphia Folk Festival
Philadelphia Folksong Society
Pennsylvania Council On the Arts
Mariposa Folk Festival (Toronto)
Eisteddfod Folk Festival (Mass.)
World Affairs Council of Pgh. ("Nationalism & Irish Music")
Three Rivers Arts Festival (Pgh.)
Buffalo Folk Festival (N.Y.)
Smoky City Folk Festival (Pgh.)
Pennsylvania Festival of Folklife - 1976 Bi-Centennial (Phila.)
Calliope House Concert series (Pgh.)
Black Pearl (Newport, R.I)
Fiddler's Green Folk Club (Toronto)
Tri-Works Folk Club (New Bedford)
Penn's Landing (Phila.) - Concert on the Gisella Primiera
Cambridge Ceilidh Concerts
Three Rivers Regatta
Mid-Summer Celtic Festival
Back to Biographies page

This project is partially supported by a grant from Pennsylvania Performing Arts on Tour, a program developed and funded by the Vira I. Heinz Endowment; the William Penn Foundation; the Pennsylvania Council on the Arts, a state agency; and the Pew Charitable Trusts; and administered by the Mid Atlantic Arts Foundation.
Funding for concert performances and workshops by Road to the Isles is available to non-profit presenters throughout the Mid-Atlantic region. For more information contact PennPat at (www.pennpat.org) (215)496-9424, or Music Tree at () (412) 323-2707.