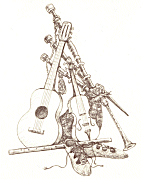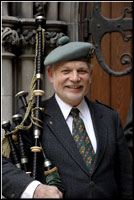 A New York Times reviewer described piper George Balderose as having a "virtuoso's gift" and in the words of a program officer of the Metropolitan Museum of Art, he is a "virtuosic piper". He has performed as a soloist at the Metropolitan Museum of Art in New York City, Carnegie Music Hall in Pittsburgh, and The Huntington (WV) Symphony, three times as a guest artist in concert with the Pittsburgh Symphony at Heinz Hall. In 1978 he co-founded the Balmoral School of Piping, and he holds the Senior Certificate from the College of Piping, Glasgow. As a competitor George has won the Grade I trophy at the Ligonier Highland Games four times, three consecutively. His piping has been recorded on H.K. Hilner's Dream Cathedral, Dewar's Dewar's Bagpipe Festival recordings, A Celtic Christmas on the KRB label, The Way Home (w/Road to the Isles), Bagpipe and Organ Medleys (w/E. Norman) and his own recording, Bagpipe Music Selections:Great Highland Pipes and Smallpipes.
Back to Biographies page

This project is partially supported by a grant from Pennsylvania Performing Arts on Tour, a program developed and funded by the Vira I. Heinz Endowment; the William Penn Foundation; the Pennsylvania Council on the Arts, a state agency; and the Pew Charitable Trusts; and administered by the Mid Atlantic Arts Foundation.
Funding for concert performances and workshops by Road to the Isles is available to non-profit presenters throughout the Mid-Atlantic region. For more information contact PennPat at (www.pennpat.org) (215)496-9424, or Music Tree at () (412) 323-2707.